December 21st, 2014
Seller ratings are a Google extension that helps people know how online stores are rated for their quality of service. This is a very important piece of information when users are making purchasing decisions: for example, an e-commerce website with good ratings generally has more qualified leads and better ad performance.
An important note: these reviews and ratings are not related to particular products (they are not product reviews), but reflect the overall consumer experience within the website. For example general product quality, customer care, shipping times and shipping costs are important parameters here.
How Seller Ratings Are Displayed
Seller ratings are showed next to AdWords ads on Google's SERPs and can appear on both desktop and mobile devices.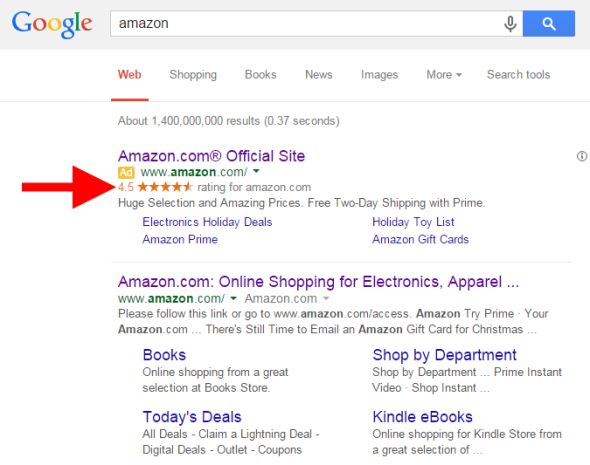 Note that Google does not edit existing reviews but can filter out reviews that are considered untrustworthy or questionable.
Where Seller Ratings Come From
Here's a list of valid seller ratings sources according to Google (I don't know anything about their priority order, so assume they have the same importance):
Google Certified Shops: a free certification programme currently enabled for US, UK, France, Japan, Germany and Australia.
Ratings from Google Consumer Surveys: Google uses this platform to collect ratings at least once a year for certain domains and businesses.
The following 3rd-party platforms and services:
Seller Ratings Requirements
Only ads that meet the following criteria are eligible to appear with seller ratings on Google search results and Google search partners:
The campaign type should be set to "Search Network with Display Select", "Search & Display Networks" or "Search Network only".
The business must have at least 30 unique reviews in the past 12 months and at least an average rating of 3.5 stars.
At least 10 of the above reviews must be in the customer's language.
Note that this extension is currently active only on Google.com, Google.co.uk, Google.co.nz, Google.com.au, Google.de, Google.co.jp, Google.fr and Google.nl.
You don't need a Google Merchant Center account for your ads to be eligible for seller ratings and there are not additional costs if you wanto to add seller ratings to your campaign (you'll be charged as usual for clicks on your ad).
How to get good ratings
This is a very easy question: the main way to improve your ratings is being a great business:
make sure that your clients receive excellent customer service
always read the reviews about your website
try to resolve issues raised by your customer
And constantly check 3rd-party services working with/for you (e.g.shipping carrier): even if they're not under your direct control, they can have an impact on your overall rating if they're not doing their job well.